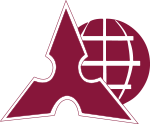 Jyväskylä Engineering Students Association (JIO ry) is a local association of the Engineering Students' Union, founded in 1982, for all students studying engineering in Jyväskylä. The purpose of JIO ry is to maintain the engineering culture, but also to protect the interests of students and promote community spirit. JIO ry is the fourth largest engineering student association in Finland.
We organise a wide range of events, from parties to training courses and excursions or company visits. Every year, our organisation participates in the largest national engineering student events, for example by organising low-cost transport from the main campus to both the ASTin cruise and the Engineering Student Days. The annual events also include the Tekniikan Tempaus (Technology Challenge), which takes place on the eve of the International Workers' Day. On International Workers' Day, the tradition is to put an engineer's cap on the statue of Schauman. In addition, there are other changing events every year and a number of fun sauna nights.
Our mission is to look after students' rights. Advocacy for our members is one of our main priorities – we work closely with the college and the student union.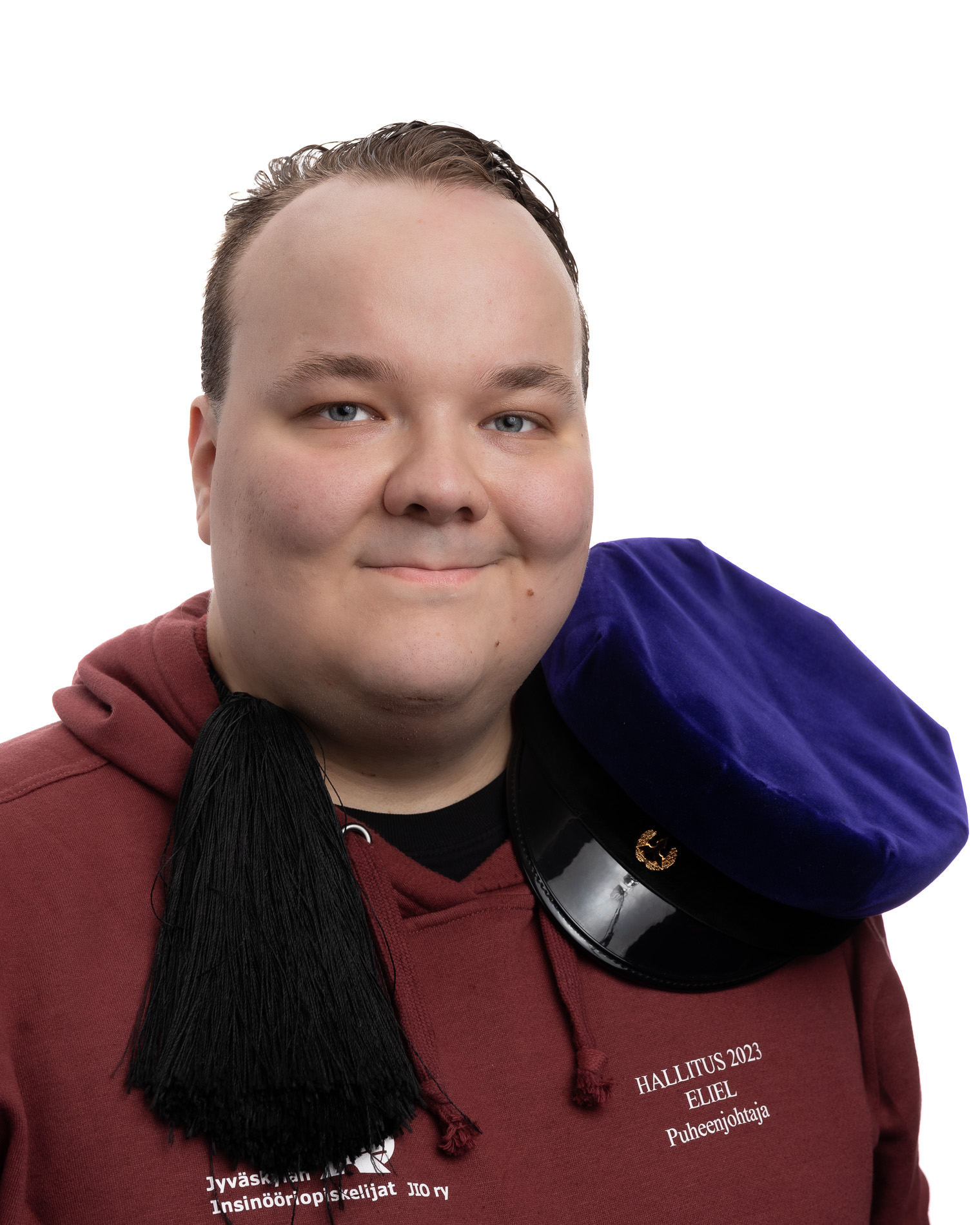 Eliel Taskinen
Chairman
pj@jio.fi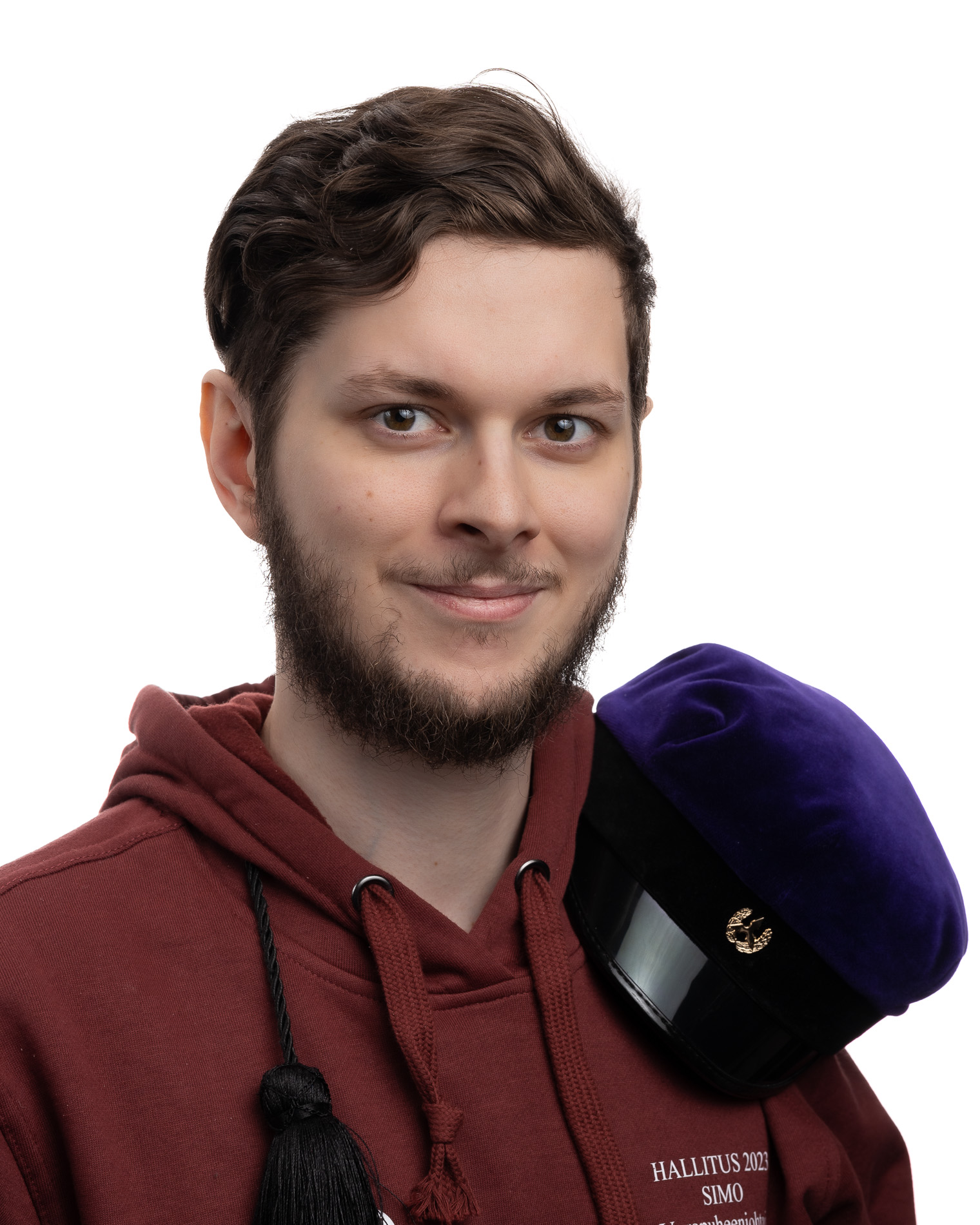 Simo Kanganiemi
Vice chairperson
vpj@jio.fi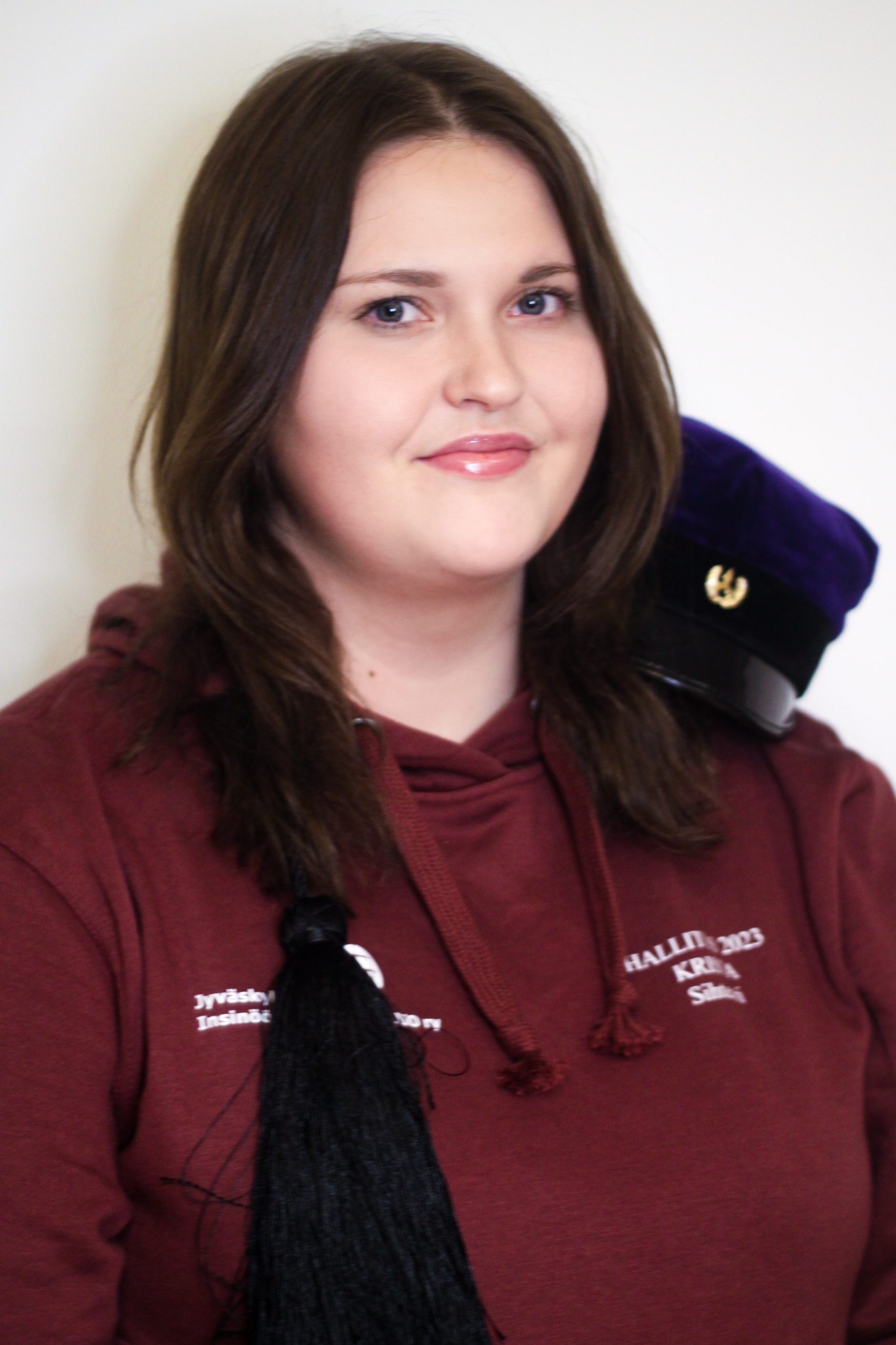 Krista Salminen
Secretary
sihteeri@jio.fi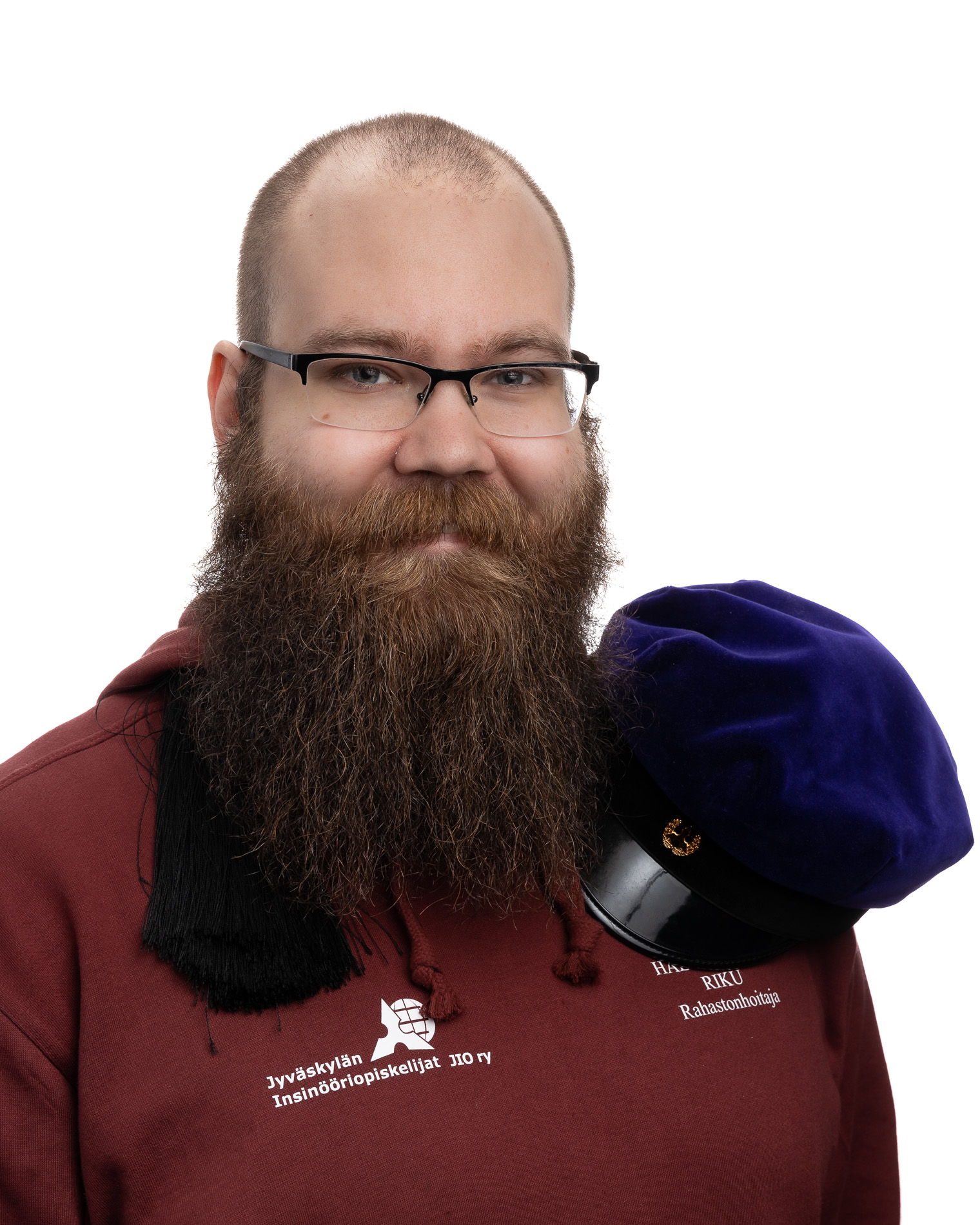 Riku Saari
Fund manager
rahastonhoitaja@jio.fi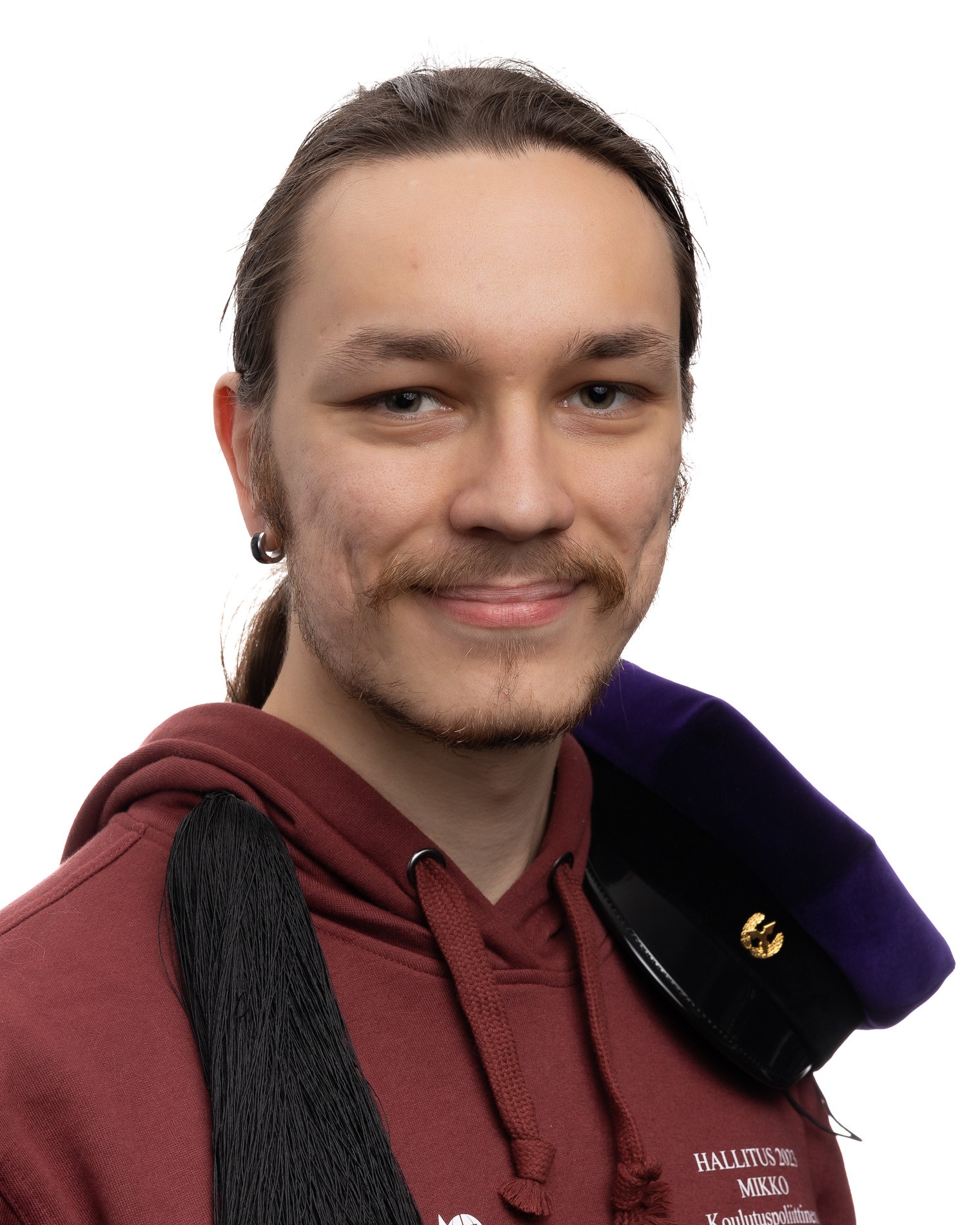 Mikko Kieränen
Educational Policy
kopo@jio.fi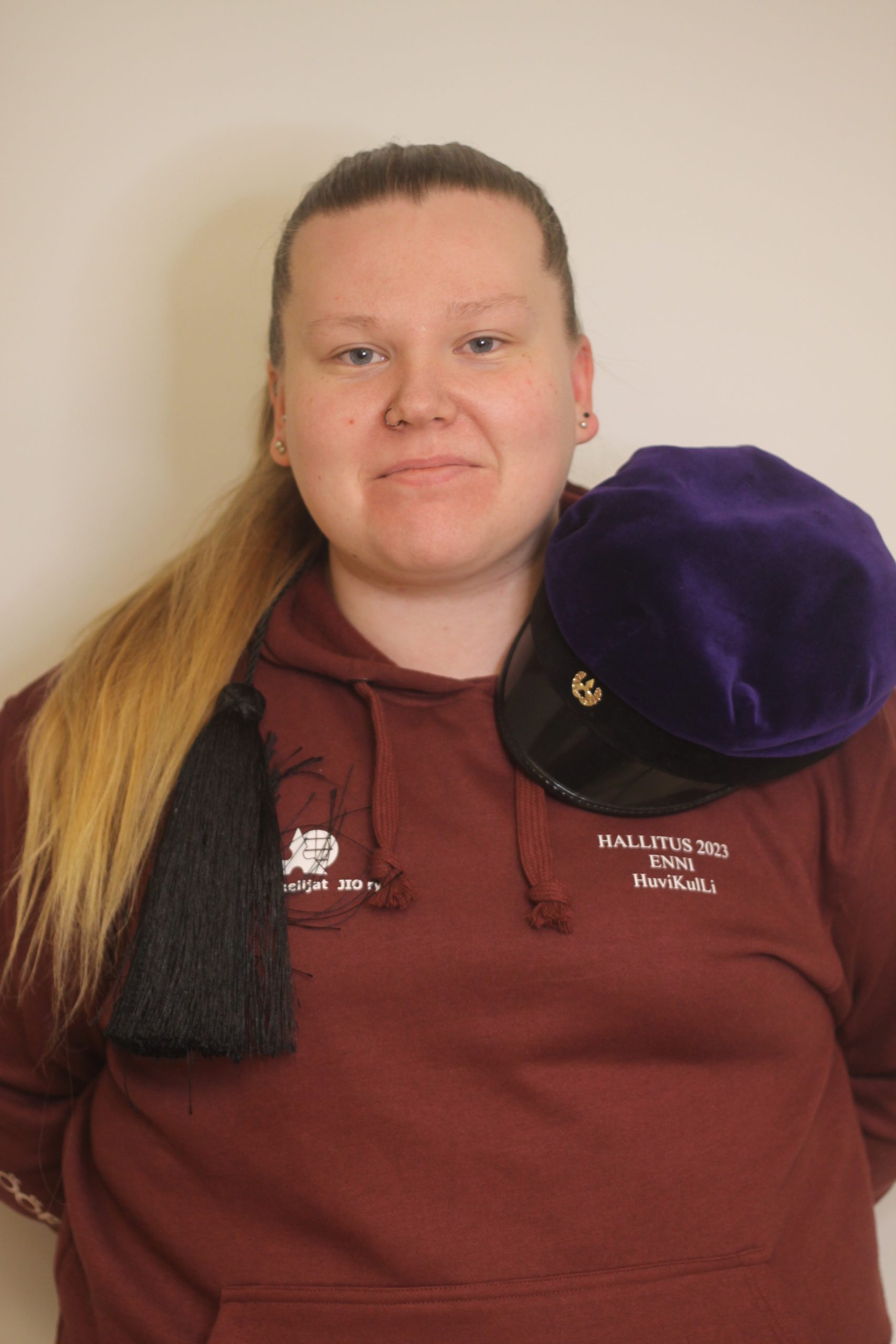 Enni Pitkänen
Events and freetime
tapahtumavastaavat@jio.fi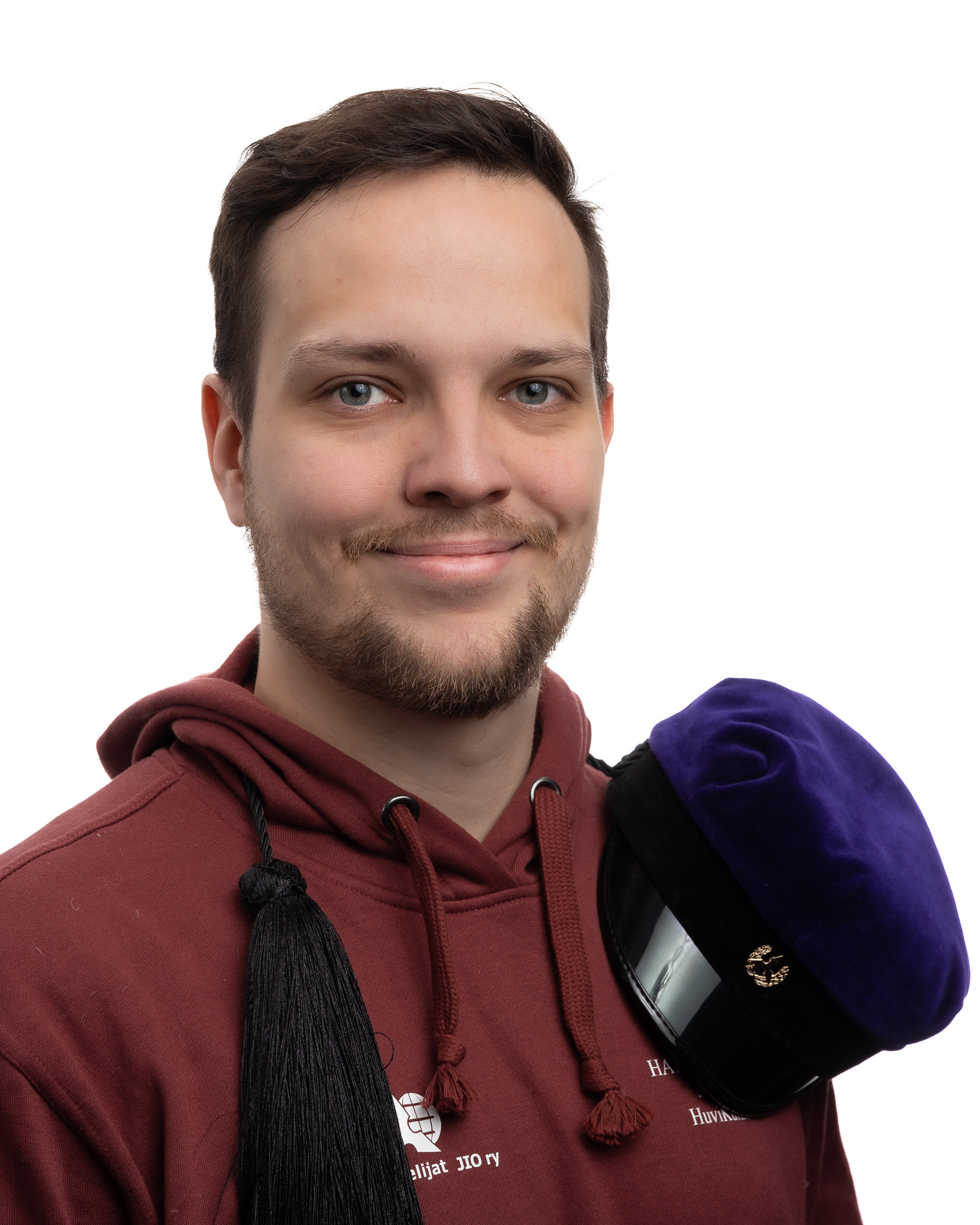 Juho Kuivila
Events and freetime, KeHä representative
tapahtumavastaavat@jio.fi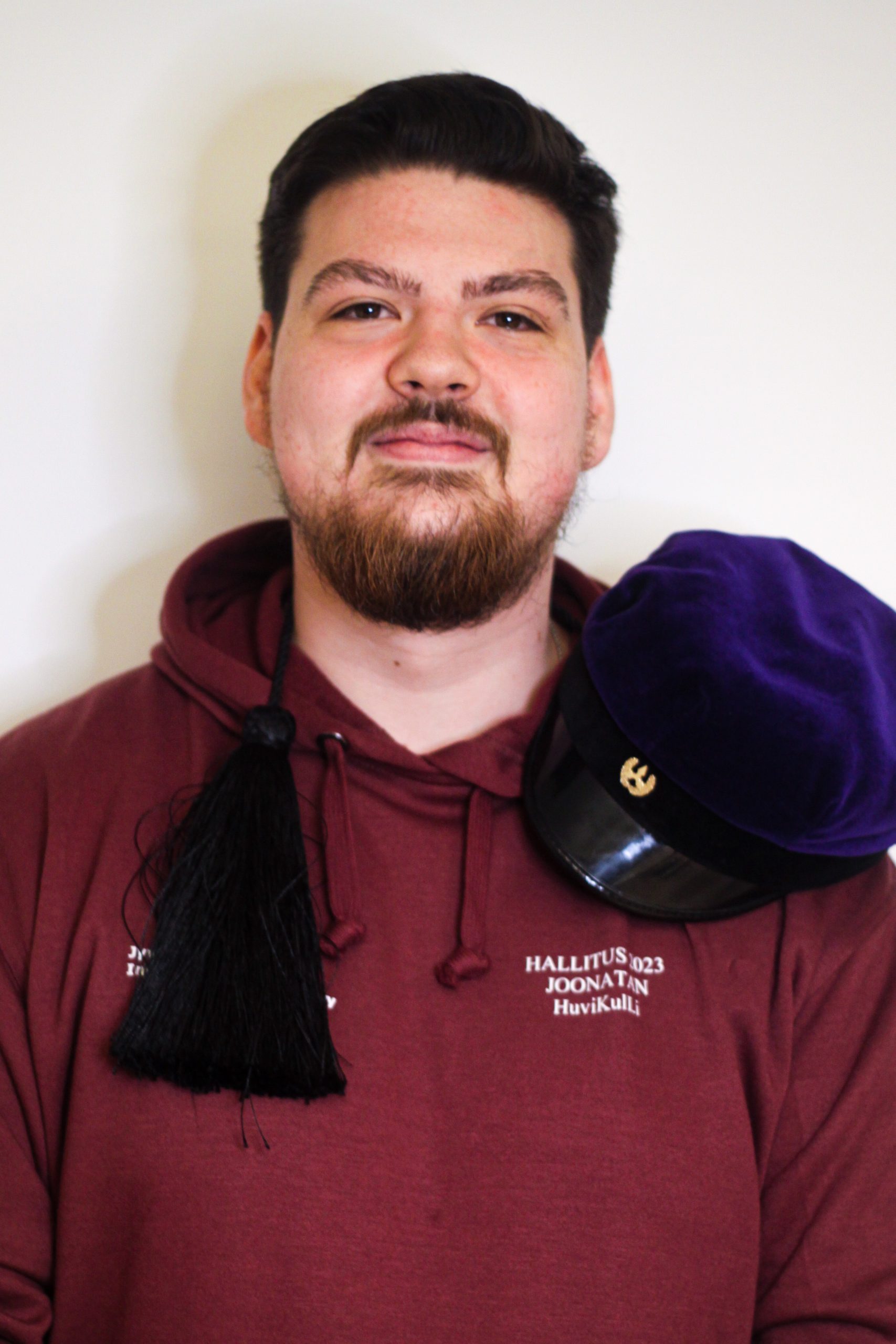 Joonatan Stenman
Events and freetime
tapahtumavastaavat@jio.fi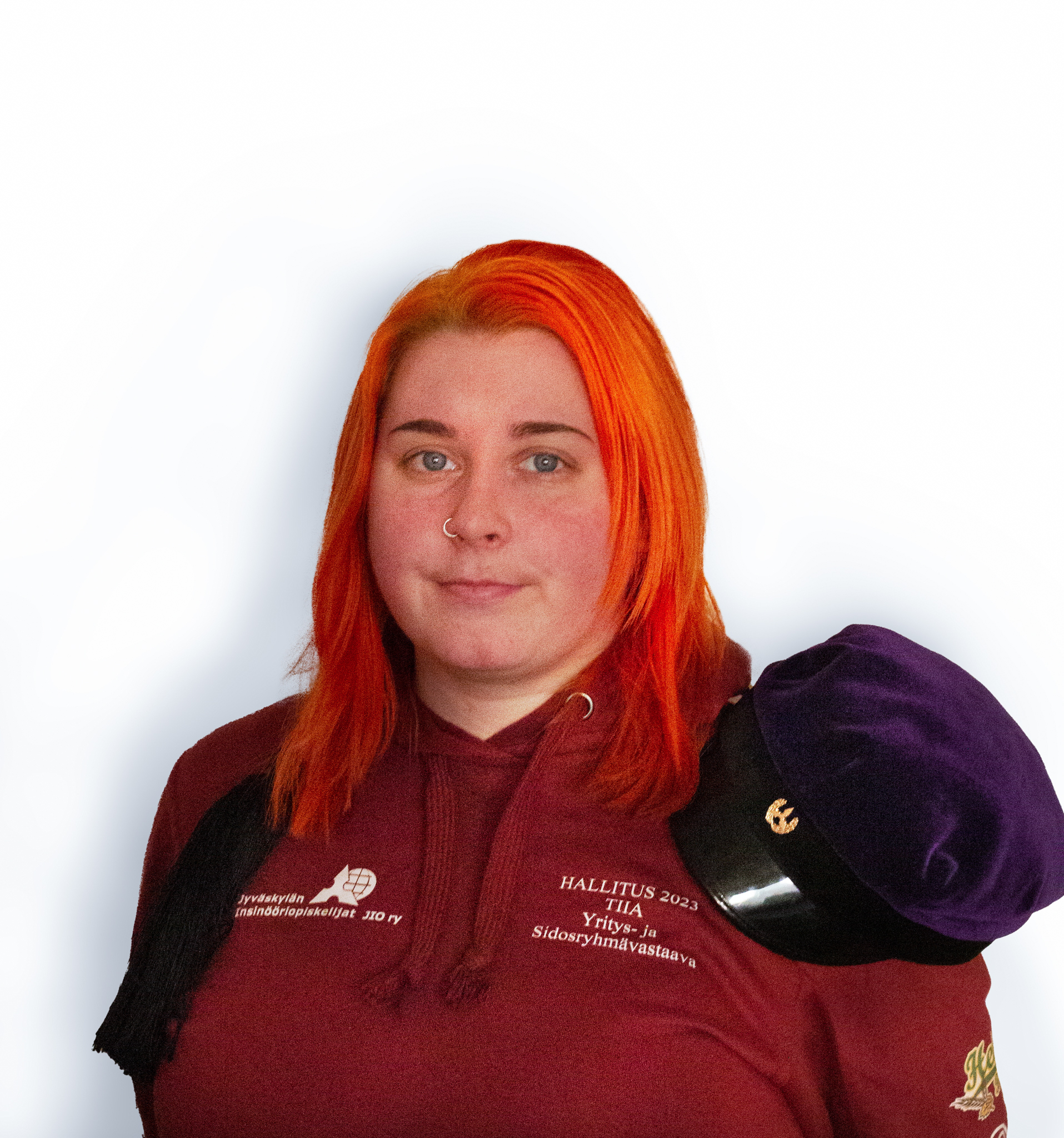 Tiia Koivisto
Cooperation
yhteistyo@jio.fi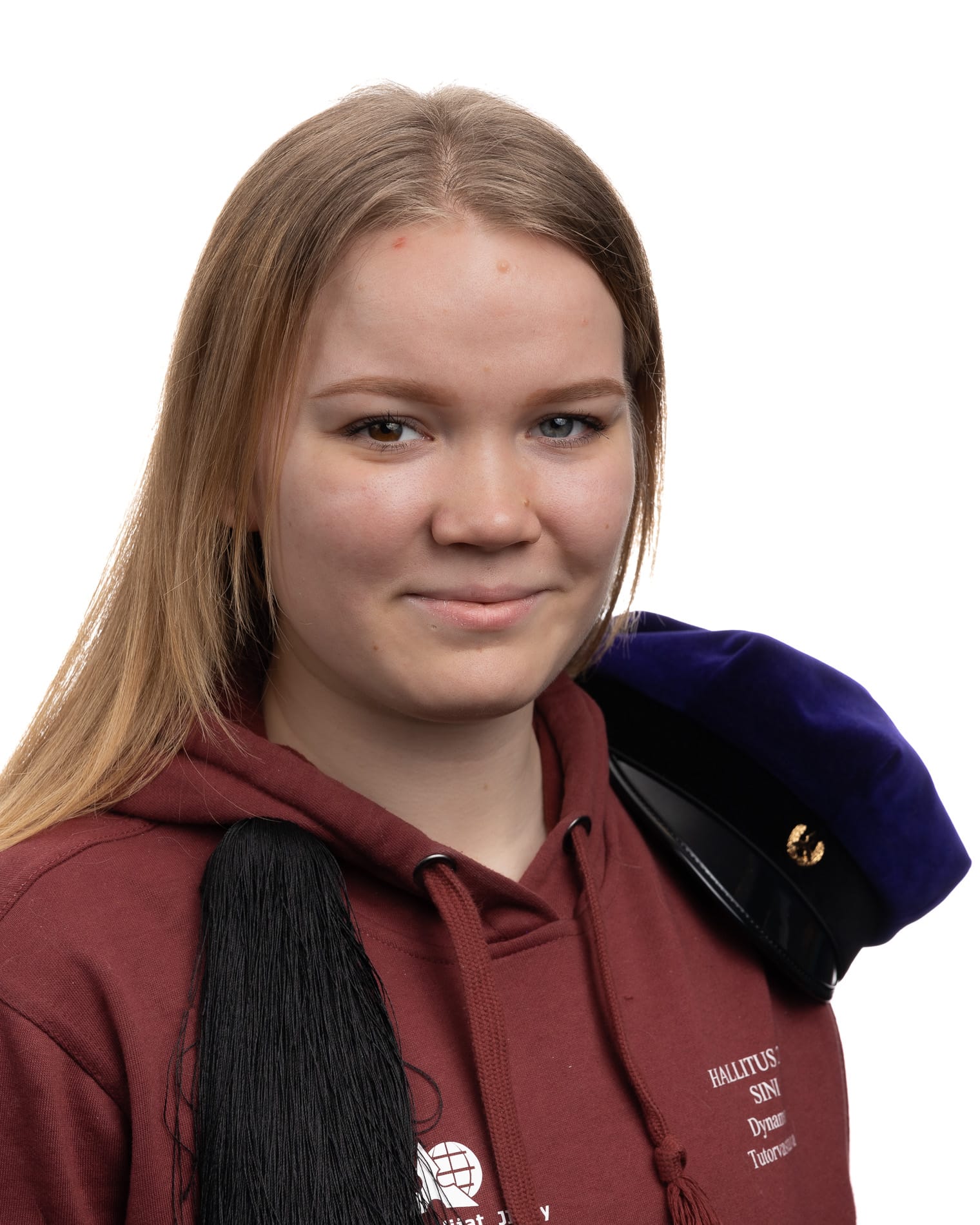 Sini Salomäki
Dynamo tutor representative
tutor@jio.fi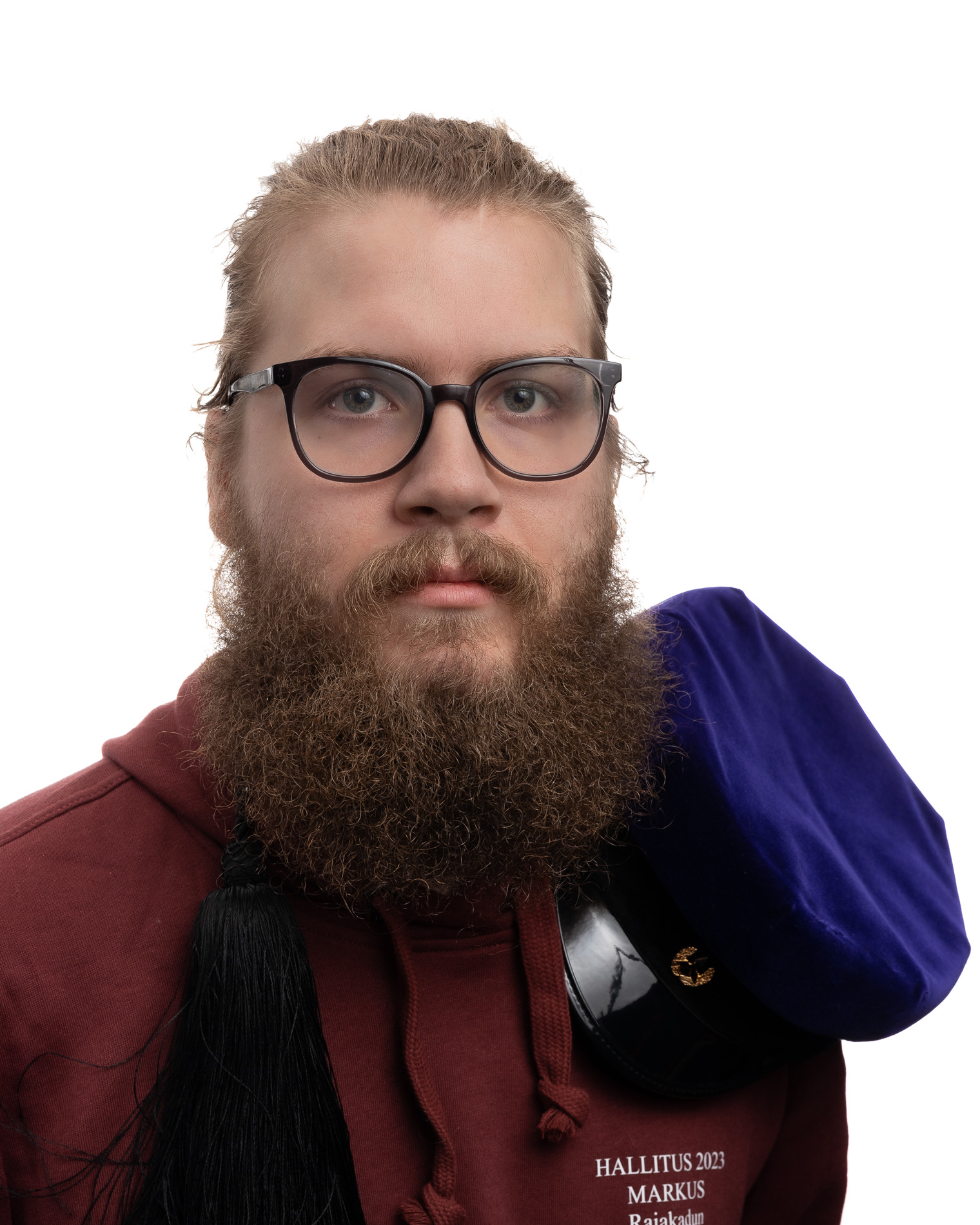 Markus Luukkanen
Rajakatu tutor representative
tutor@jio.fi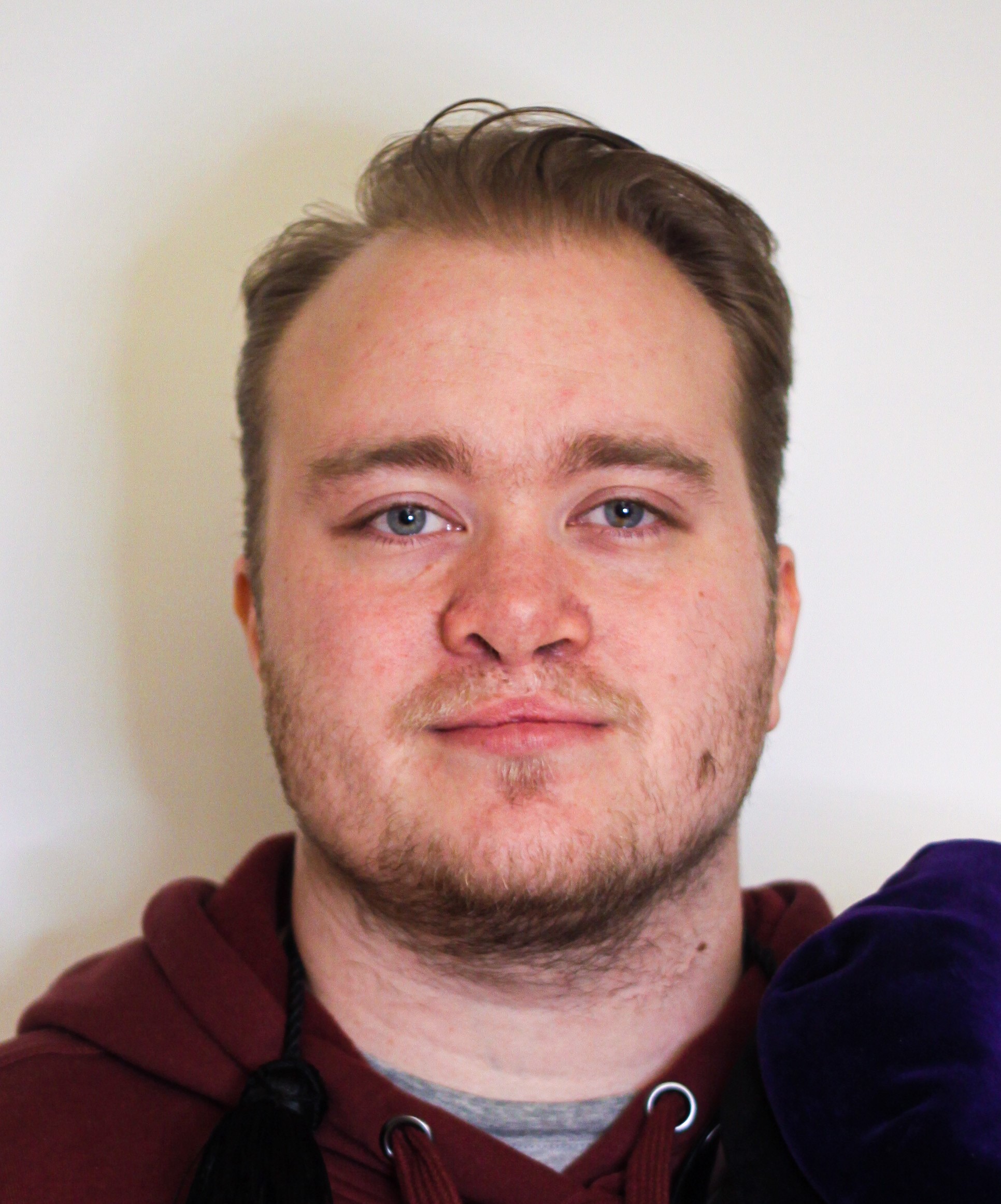 Sebastian Nordman
communications
viestinta@jio.fi
Meetings of the association
The JIO organises an annual statutory Spring and Autumn meeting open to all members. At these meetings, the JIO decides on the budget for the coming year, approves the financial statements and elects the board members for the coming year. The invitation to the meeting is posted on the notice board of the institution two weeks before the meeting. The meeting is also announced on social media channels. At the association's meetings, members have the opportunity to decide on the association's affairs.
Harassment contact persons
JIO condemns all forms of harassment, bullying and discrimination, and therefore we have two designated harassment contact persons on our board:
Markus Luukkanen ja Sini Salomäki.
You can contact the harassment contact person if you feel you have been bullied or harassed by another student or staff member. You can contact them even if you are not the victim of harassment but have seen harassment taking place.
The harassment contact person will always act on the terms of the person being harassed and will not take further action without your consent and will take your case forward if you wish. They will act as a support person and advisor in the event of harassment. By contacting them, you will always have an impartial interlocutor in the situation.
You can contact either the common email address of the harassment contact persons or, alternatively, just one of the harassment contact persons individually.
Common email address of the harassment contact persons:
hairintayhdyshenkilo@jio.fi
Markus Luukkanen
markus.luukkanen@jio.fi
phone number: 050 531 2699  
Sini Salomäki
sini.salomaki@jio.fi
phone number: 044 040 9479
The Union of Engineering Students (IOL)
The Union of Engineering Students (IOL) is the largest national membership organisation, established to represent engineering students in both the university of applied sciences and the trade unions. Its main areas of activity are engineering education, engineering student culture and the development of working life skills. The Union of Engineering Students has 24 local associations, run by hundreds of student activists throughout Finland.
The Union of Professional Engineers in Finland (IL)
The Union of Professional Engineers in Finland cooperates with employers' and employees' organisations, employers, higher education institutions and other partners. It produces a wide range of research information on the working life and training of engineering professionals, as well as statistics on wages in the sector. The Engineering Union is the best expert on the working life of engineering professionals.
The members of The Union of Professional Engineers in Finland have a wide range of membership benefits for everyday and leisure activities. Plus, the union's experts are there to support you at every stage of your career and working life. Take advantage of the member benefits – and your career will be even more enjoyable! You'll also get a 50% discount on the IL membership fee for the first 18 months after graduation if you become a student member during your studies.
Would you be interested in working on a school board? New members are elected to the JIO Board every year. You do not need previous experience in an organisation. The student board for the coming year is elected at the autumn meeting. Feel free to ask the board members for more information!
If you find it too much work, don't worry, you can also get involved in other ways as a student activist. For active members, there are training sessions and a range of cultural activities – from live encounters to online events where you can mingle with other students in the field. At the same time, you can practice important networking skills and develop yourself professionally.
You can also act as a contact person for the class. As a liaison, you can attend union training sessions, which will give you tips on topics such as job search and employment contracts.
JIO's low membership fee covers the entire duration of your studies (up to 5 years). Members receive discounts on the association's events and overalls, as well as on the wide range of services offered by its partners, by showing their JIO card/app. You will also receive the Engineer magazine at home. By joining the Engineering Students' Association, you also become a member of the Engineering Association IL ry and enjoy a wide range of membership benefits, such as work and leisure insurance, legal expenses and liability insurance. You can also join the KOKO insurance fund, which entitles you to a daily earnings-related allowance if you meet the employment condition. You can become a member of the JIO by filling in a membership form online or by submitting a membership form to your local association office.
Local benefits
  As a member, you get discounts on all association events and overalls.
  Additionally, discounts on partner services by showing your engineering association card/badge.
Teerenpeli
– Teerenpeli brewery taps -15%
– Blueberry/Cranberry schnapps (4cl) 3€
– Pulina/blackberry mule drink 5€
– Engineer's whisky (4cl) 4,50€
– Coffee/tea 1€
– Small soda 1€
– Sulamibread 6€
– Wine (12cl) 4€ and bottle 23€
– French fries 3€
Heidi's Bier Bar
– JIO's own NYX membership
Vero Moda & Jack&Jones (only from Forum, Jyväskylä)
-10% off regular priced products
– During JIO week -20% off normal priced products
Antishop
-10% from products
Buugi fitness and wellness center
-Padel: Weekdays 7am-4pm: €26/h, weekdays 4pm-10pm and weekends: €32/h.
-Badminton: Weekdays 7am-4pm, weekends 8am-12pm: €10/h, weekdays 4pm-10pm and weekends 12pm-9pm: €16/h.
-Outdoor tennis: €14/h.
-Group exercise classes: 12-month pass for €49/month.
-Gym: 12-month pass for €29/month.
-All discounted prices include necessary equipment, such as rental of racquets and balls.
Mago Hair Salon
-10% discount from all of their services.
Membership Benefits Of The Union of Professional Engineers in Finland
The Union of Professional Engineers in Finland  customer service is there to help you when you have questions such as:
– Employment-related matters (employment contracts, pay, dismissals, etc.)
– Payroll (contract, employment contract, termination of employment, etc.)
– employment contracts
Members of the Engineering Union are insured against accidents at work as well as accidents during their leisure time. The insurance includes a legal expenses and liability waiver. More information can be found on the union's website.
Central Finland Engineers Association
When you graduate and continue as a member of the Engineers' Union, you automatically become a member of the local association in your region. Remember to submit a graduation notification to the union. The activities of the Central Finland Engineers Association are lively and varied – the association organises excursions, events and activities for its members. The association also helps with local lobbying. The association works in close cooperation with the JIO Association. The association has various committees, members of which can participate in and thus contribute to the activities and the variety of events. By getting involved, you can make a difference to what your membership brings!
Overalls and other products
JIO ry organises an annual group order for overalls. Usually fittings and ordering take place in the autumn during the new students' orientation week. By becoming a member, you get a discount on overalls. JIO's overalls are burgundy with the name of your field of study on the back.
You can buy JIO overalls at the office during office hours or at the stand.
You can also buy scarves and cloth bags at the office.
The legendary engineer's cap was invented in 1969 by Heikki Silván, an engineering student from Helsinki. The octagonal purple velvet cap with black tassel/strings is the main symbol of every engineer and engineering student from the first year of study onwards. The JIO organises a bundle order of caps every year before May Day.
hallitus[at]jio.fi
number: 050 5232 925 (Eliel)
Adress: Rajakatu 35, Tila D303,
40200 Jyväskylä
The office is open on tuesdays 10-13.
Business id: 1464465-9
Bank account: FI48 5290 0220 1643 86
Top banner: Tuukka Luukkonen